Traveling in South America? Buenos Aires is a great place to improve your Spanish. Learning Spanish is a breeze when you are immersed in a culture, and culture is something Buenos Aires has in spades. The city has so much to offer expats.
From tango to football to the best beef in the world. 
Take a Spanish course from our native speakers here in Palermo and in no time at all, you'll be speaking Porteño like a local. The relaxed atmosphere of our language school in the heart of Palermo makes students feel at home. Expats can learn Spanish in our conversation cafe while making friends and experiencing Buenos Aires like a local.  Native porteños will introduce you to one of the richest cultural experiences in South America. Buenos Aires has everything you want and need to learn Spanish.
4 Free Tango Dancing Opportunities in Buenos Aires
So, you are new to BA and want to experience the most seductive dance in the world but are on a shoestring budget? You want to see some professionals dance but don't want to spend the dough on a high-priced touristy show? Here are 4 great ways to pick up a few steps absolutely free.
Tango in Buenos Aires at Museo Casa Carlos Gardel
The museum periodically has free tango lessons in Buenos Aires offered in the courtyard by a professional tango teacher. The courtyard is a tight space for dancing but that's all the more reason to dance apilado style. Occasionally the museum also organizes tango music concerts. Check the museum's facebook page for upcoming events.
Tango in Buenos Aires at La Glorieta de la Plaza de Barrancas
In this open-air gazebo in Belgrano, you will find free tango dancing every weekend (weather permitting) starting at eight pm. Arrive a bit early and there is a free lesson for the basic steps.   Facebook
Plaza Dorrego
In the heart of San Telmo almost every Sunday you can find tango dancing in this plaza to be watched, and if you are lucky, you may be asked to join in. Enjoy a glass of wine and let the professionals do their thing or bring your dancing shoes and look ready to dance. Take a look at the city's website for more details.
Caminito en La Boca
Another great opportunity to enjoy Tango in Bueno Aires o here in the iconic La Boca barrio.
One last thing, for the next 2 weeks the city of Buenos Aires is giving away free tickets to the Tango World Championships if you take the tango quiz at here
Studying Spanish with lvstudio will give you a great discount for tango classes with DNI TANGO.  One Month Intensive Spanish Course + 5 Tango Classes: 1000 USD.
Buscando café de calidad más allá de un "cortado"
Estudiantes extranjeros que estudian en lvstudio escuela de español en palermo se quejan constantemente de la mala calidad del café que les sirven en la mayor parte de los bares, restaurantes y cafeterías que visitan. Si bien los porteños nos enorgullecemos de nuestros bares tradicionales, con color local y decoraciones del siglo XIX, puede ser que para el paladar de un amante del café acostumbrado a granos de alta calidad, el cortado clásico que se encuentra en esos lugares no sea lo ideal para empezar la mañana.
Es por eso que a continuación hacemos un listado de cafeterías en Palermo con granos de calidad que no te van a decepcionar, y otras atracciones cafeteras que podés encontrar en Buenos Aires cerca de lvstudio escuela de español en palermo.
LAB coffee shop (Humboldt 1542)
Tiene una estética industrial muy agradable, iluminación perfecta y buen ambiente. Ofrecen muchos diferentes tipos de filtrado del café, una gran variedad de bolsas de café recién tostado para que te lleves esos sabores a tu casa, además de servicios y asesoramiento para empresas.
LaTTente (Thames 1891) ( http://www.cafelattente.com )
El café es riquísimo y a buen precio, tienen pastelería poco variada pero de lujo, que incluye fustucas (combinación increíble de pistachos, clara de huevo y azúcar), que no se pueden encontrar en ningún otro lado. En general no hay demasiado lugar, es una cafetería pequeña, pero muchos turistas se suelen juntar allí a hacer sociales. Los domingos al mediodía podés encontrar en la puerta a Sheikob's bagels, que hace los mejores de la ciudad. Tienen su propio blend para llevar, y el certificado de excelencia de Trip Advisor hace años.
Plus: si llevás tu propia taza, tenés un extra shot de café gratis.
LaTTente en La librería del fondo (Costa Rica 4568)
Otra sucursal de Lattente, pero al fondo de una librería hermosa en la que todos queremos quedarnos horas. Al fondo hay un patio bastante grande, para aprovechar días lindos leyendo algo y tomando un café de los dioses.
Felix felicis & Co (José Antonio Cabrera 5002)
Además de ofrecer un gran café, tienen brownies húmedos excelentes, y gracias al silencio y la barra en la ventana es una buena idea ir para sentarse a trabajar con la computadora. También venden máquinas de café y un blend molido en el momento para llevarte a tu casa.
Otras cosas que te pueden interesar:
TRAINING PARA BARISTAS AMATEURS Y PROFESIONALES que ofrece LAB: Duran cuatro horas, incluyen teoría, práctica y degustaciones.
CUPPING ROOM SESSIONS: Encontrás más información en: http://labcafe.com.ar/
FERIAS DE CAFÉ DE CALIDAD Y CONCURSO DE BARISTAS
Se realiza anualmente, alrededor de Agosto o Septiembre, se llama "Exigí buen café" y reúne a profesionales y a todos los amantes del café que quieren degustar los productos de diferentes empresas.  (Más información en http://exigibuencafe.com )  
 The Venezuelan Gem Hiding in Buenos Aires' Microcentro
I pace back and forth from the skinny wooden counter to the chalkboard outside — unconfident in my arepa choosing capabilities. Aura Jimenez is perpetually patient despite me blocking up the traffic of her packed restaurant. A waiter carrying plates of tequeños, black bean soup, pork chops and generously stuffed arepas does his best to inch past me. Jimenez is the matriarch of Guaica, a tiny Venezuelan eatery hidden past a broken escalator and a long corridor in the basement of a three story mall dominated by computer shops. It is just barely out of ear shot of the peddlers that shout "cambio!" up above.
I audibly debate the pros and cons of the nearly two dozen listed options. "Braised pork leg and avocado sounds great but is it as juicy as the asado negro and can I put fried plantains on everything?" We finally come to a decision, a reina pepiada, the traditional shredded chicken and avocado filling. She is about to pass the ticket along to the kitchen when a plate of shredded beef, black beans, avocado and fried plantains floats by like a dream. "Hold up," I proclaim, "I want that."
For years, Jimenez and her husband Javier León, who mans the kitchen, were amongst a small group of cooks offering traditional Venezuelan dishes. The pair have a natural warmth that makes you immediately feel welcome. They arrived from Mérida to Buenos Aires more than a decade ago, "With a suitcase, some debt and a lot of dreams," starts León. Mérida is a small mountain region on the Southwest edge of Venezuela. It is, according to León, one of the country's most diverse food regions in part because of its unique Andean culture and a climate that produces much of the nation's agriculture.
The pair began as a closed door and catering service in Palermo before setting up their brick-and-mortar on the ground floor of the famous Galería Jardín three years ago. "We were a complete anomaly. Not just in Microcentro where there wasn't a lot of variety but imagine walking through this mall and finding a little arepa stand in the middle of a bunch of computer shops."
The pabellón arrives on a simple dish that fits perfectly with the homeyness of its contents. Sprinkles of cumin and chile powder waft through the air and to your nose before you can even take in the rest of the dish. The tender shreds of braised beef pop with the savory juices of a rich broth. Bites are complimented by fatty avocado, the sweet char of gooey fried plantains and light strings of white cheese. Squirts of a citrusy cream sauce makes a great pair for the earthy black beans. A chunky hot sauce made of bright yellow aji limon packs a heat that settles on the tip of the tongue and only begins to graze to the back of the throat when paired with the bits of carne.
"Arepas come from the indigenous tribes. It is our interpretation of corn which you in every cuisine across South America. In Mexico, they turned it into tortillas [sic] in Argentina you see it in humita. We made arepas and it's what we eat everyday," explains León, "Guaica comes from Guaicaipuro, an indigenous chief that fought off Spanish influence and who was able to keep Venezuela free of a Viceroyalty. We wanted to pay respect to that strength and the indigenous influence that you see in typical Venezuelan dishes."
Corn shows up across the menu. Empanadas are made with a corn dough before being stuffed and deep fried. The filling is made with chicken that is lightly fried in achiote-infused oil before being seasoned with sweet pepper and a touch of curry and cooked until it can be served pisillo, or shredded. The dough is fried to a golden brown and has a beautiful flakey crunch that gives way to succulent chicken. Long cylinders of soft cheese are wrapped in broad ribbons of the same dough and are also thrown into the deep fryer until the masa begins to bubble without sacrificing the chewy texture of the mozzarella. Both appetizers should be doused in sauce — I liked the combination of the hot sauce tempered by the citrus of a thin white cream.
Soups change daily and can be ordered as a small accompaniment or a large main. A warm black bean soup had a wonderful fattiness from the rings of fat that rose up from the chicken broth. Although I found the garlic sauce too rich with the other dishes, in the soup it heightened the comforting buttery flavors. Arepas can be prepared any way you want with options for vegans, vegetarians and meat-eaters, alike. A vegan option stuffed with fried plantains, beans and avocado was just as satisfying as the asado negro, which came with generous strips of beef braised in a sweet panela and red wine marinade. Most guests ask for the asado negro to come stuffed with cheese but Aura insists the typical preparation is with thin slices of tomatoes. The white corn arepas are toasted to a nice crunchy texture that stands as a nice contrast to the lush fillings.
To drink, I preferred the tangy sweetness of a flor de jamaica soda over the simple (but equally tasty) iced tea. A house made beer is prepared with hibiscus and flor de jamaica as well and recently took home a gold medal at the South Beer Cup for Spice Beer category. A well-stocked bar means that guests can have an early drink and small dish before the 7pm closing time.
It would take nearly a month to chow through every item on the menu. It's a welcome challenge.
Christian Moore
Having lived in different parts of the world, I can tell you that the synthesis of cultures, entertainment, and street beauty found in Buenos Aires, more specifically in Palermo, totally resonates with my taste. This is why I chose Palermo to set up a Spanish School in Buenos Aires. The range of activities close-by are so varied, you can never be bored.
Sometimes, after Spanish school, I go with Spanish students for lunch to Plaza Armenia. My favorite place is up on the terrace at Quimbombo. They have refreshing drinks, organic food, and a great view of Plaza Armenia.
Other days, there's an independent designer fair close to Plaza Serrano, where you can find all sorts of things from skirts to accessories with an alternative look… When the weather is good, having a picnic by the Rose Garden in the Palermo Park is beautiful… Just beware of ducks stealing your food! 🙂
At night, my thing is dancing Tango. Popular places are La Catedral del Tango, La Viruta, Buenos Ayres Club. To dance salsa I go to La Salsera or Azucar. Now, if your thing is electronic music here is a good site to check out where to go techno dancing.
If you prefer a more quiet night, there's a wide variety of restaurants, cafés, bars, to enjoy a good wine, music, and meet new people. For instance, on Thursday nights, lvstudio hosts an event at Birmania Bar, up on the terrace when the weather is good. You can drink a beer while a teacher is there to help you practice what you've learned in Spanish class, and meet Argentines doing the same in English!
Hasta pronto! See you soon at lvstudio Spanish school in Buenos Aires!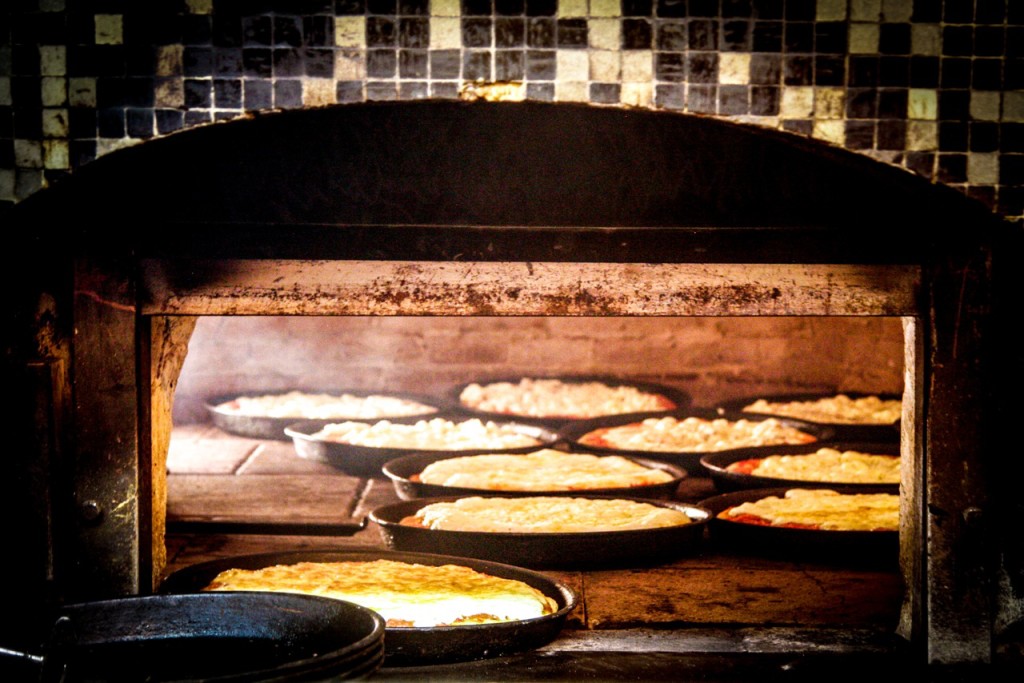 YANQUI DE MIERDA GO HOME! VOLVETE AL PAIS DE LOS OBESOS MORBIDOS.
That was the all caps lock love letter I received a few years ago after mentioning I wasn't fond of Argentine pizza. Note to self: if you fuck with Argies and their pizza, they take it personally and may threaten your life.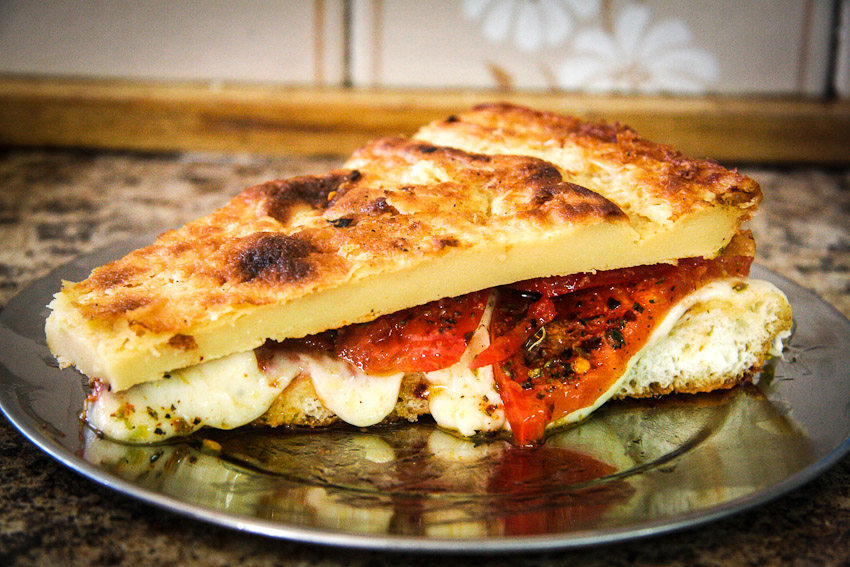 Sorry Porteños, you will probably hate me and discredit anything I have to say since I know many of you think you have the best piksa in the world, but it's much more common to find bad pizza in this city. I'm talking about all those Pizzerias los Hijos de Puta, serving an abundant layer of cheap plastic quesothat never seems to properly melt, flimsy can't-get-it-up cardboard crust, Olympic pools of oil, dried oregano-sprinkled canned tomato "sauce" CONSERVATIVELY spread atop, and a skimpy selection of stupid toppings (yeah… I'm looking at YOU palmitos, salsa golf, huevo duro and ham rubber.)

Fortunately, my hatred for the local corte has calmed, I'm able to accept Argentine style pizza in all its cheesy glory, and will honor a good pizza when merit is due. So, after lots of strenuous research, eating, crying, and lactose intolerant-induced stomach aches, I came up with a totally biased guide to my best pizza in Buenos Aires.
(And of course don't miss my PIZZA CONMIGO episode on UN3TV)
SIAMO NEL FORNO – Costa Rica 5886, Palermo Hollywood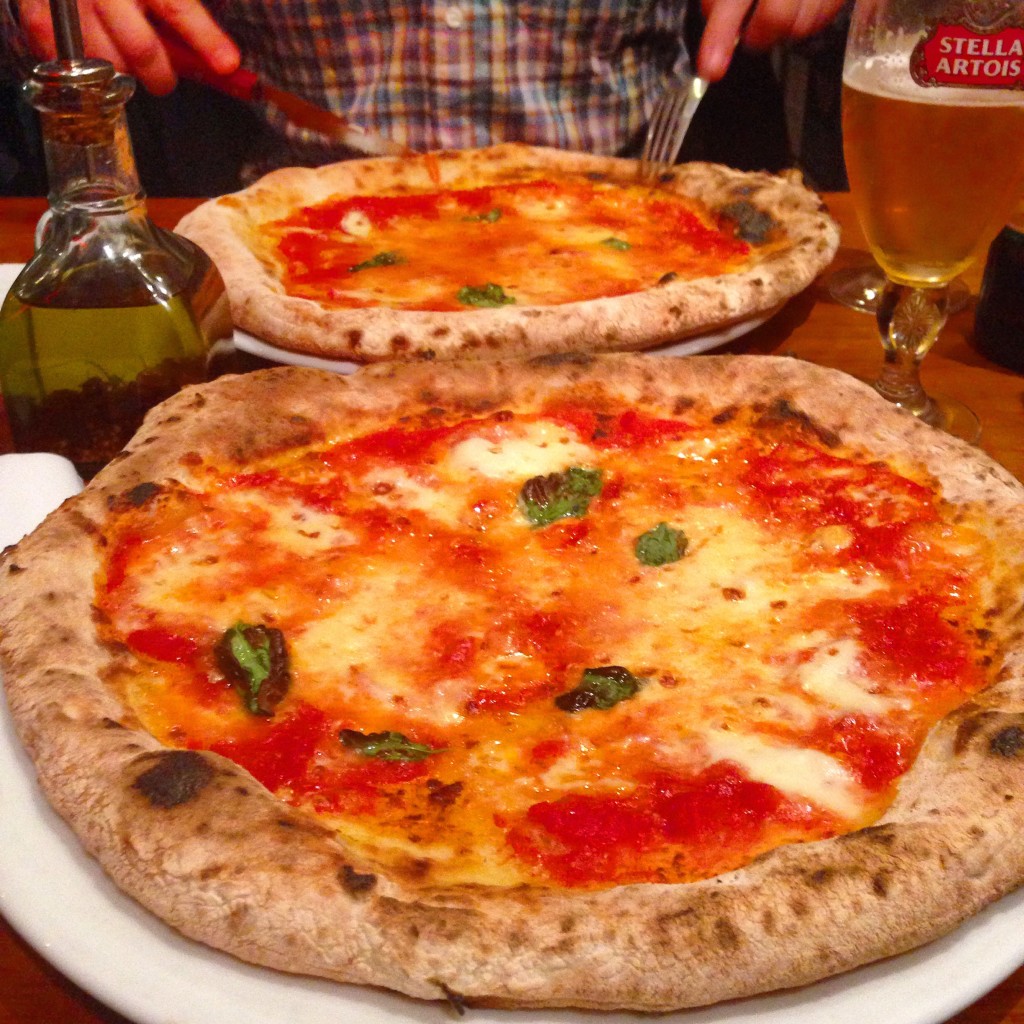 The pizzeria lowdown: I'd be a happier person if I ate Siamo Nel Forno at least once a week. This is true Neapolitan style pizza, with the certification to prove it. The space is homey, rustic, informal and the star of the room is the wood fire oven that blisters and scorches the beautiful pie a la vista.
All about the pizza: Super light fluffy dough, cooked for less than two minutes in the XXXhotXXX oven, and topped with fresh ingredients and great tomato sauce. I always order the Margherita – it's a joy to eat and really never fails me. Ask for the spicy chili oil, and order with beer or wine depending what strikes your boozy liver.
ALBAMONTE – Av. Corrientes 6735, Chacarita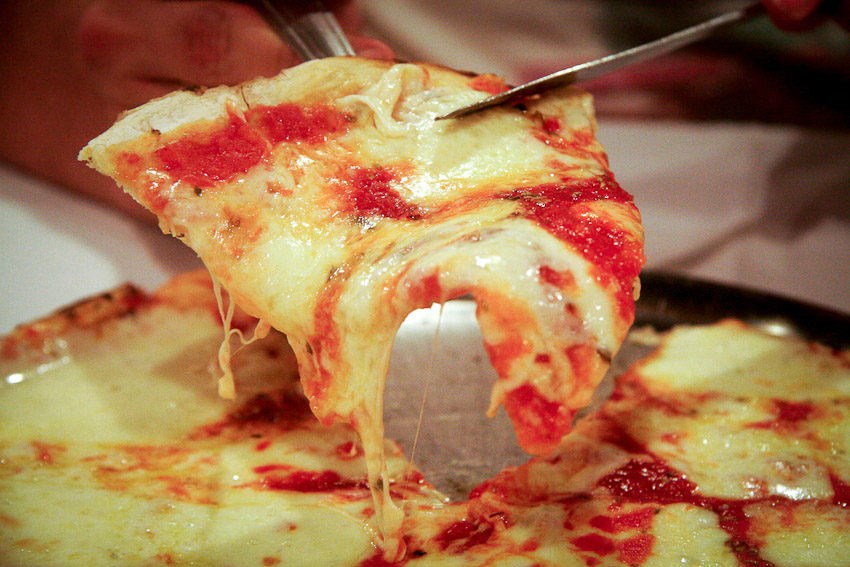 The pizzeria lowdown: It's Chacarita's bodegón pride and joy. Sometimes we all need that go-to family joint for good old fashioned Argentine comfort food. The menu is quite traditional – pastas, gramajo, tortillas, parrilla, milanesas, etc., and while most of the diners order the pizza as an appetizer before moving on to a main dish, I'm a strong proponent of making it the star of the show.
All about the pizza: Super thin crust, smothered in tomato sauce (ask for extra), and not drowning in prison cheese. Hot fatty tip: if you live in the barrio, pick up the pizza to go, bring it home, stick it under the broiler, and in a few minutes you have the provoleta-like cheese topping crust of perfection.
GÜERRIN – Av. Corrientes 1368, Centro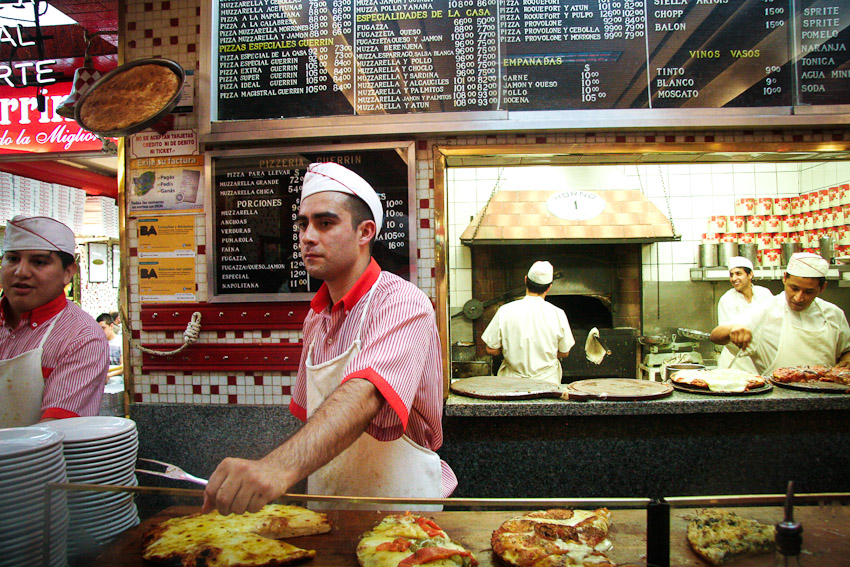 The pizzeria lowdown: The most popular pizzeria in the heart of Corrientes theater mania, Güerrin is arguably the city's most beloved pizzeria. It even has a Wikipedia page. Pizza Fact: The wood fire oven at hasn't turned off since 1932.
All about the pizza: I have a hate-love relationship with this pizza al molde. It's definitely an Argentine style thick slice, but it's where to go to get a dose of total porteña-ness: NAPOLITANA, eaten while standing and washed down with moscato.
LA MAS QUERIDA – Echeverría 1618, Belgrano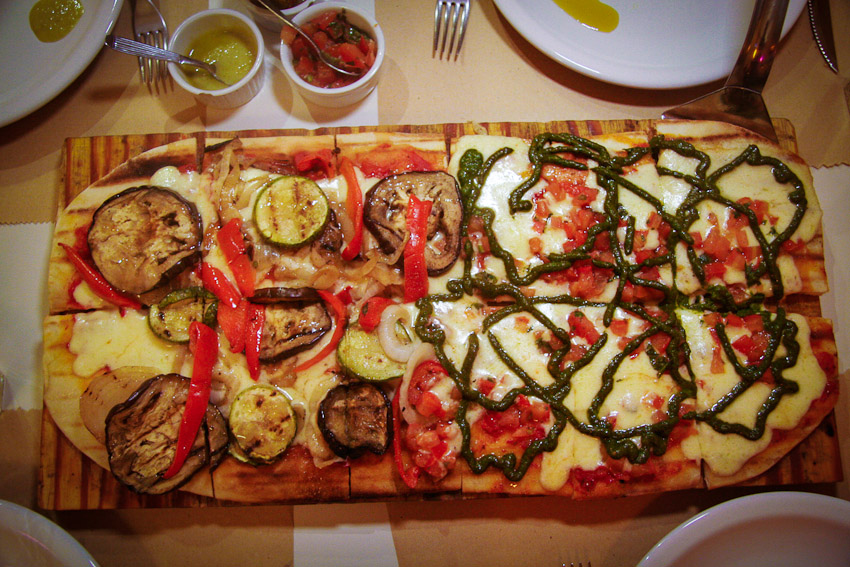 The pizzeria lowdown: Pizza on the grill should replace thick crust as the national pizza dish. I have such mad love for pizza a la parrilla, and even more love for my beloved La Más Querida. The small spot feels like a little restaurant hideaway in some beach town. Buby Van Asperen, a self proclaimed ex-hippie and master at sporting a Hawaiian shirt, opened La Más Querida in 2005 to bring a quality pizza a la parrilla with fun toppings.
All about the pizza: Super thin crust, piled with great toppings: artichokes, gruyere cheese, mushrooms, onions, brie, pesto, roasted vegetables and más. It even comes with spicy dipping sauces on the side.
LA MEZZETTA – Av. Álvarez Thomas 1321, Chacarita / Villa Ortuzar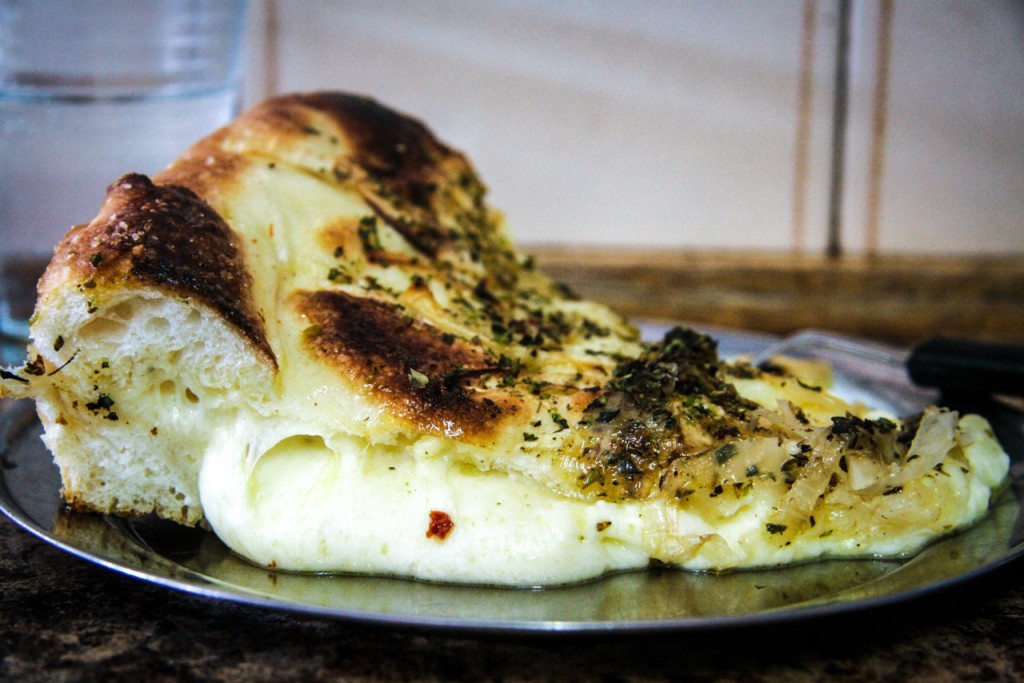 The pizzeria lowdown: Something about this dirty hole in the wall that brings both disgust and joy to my heart at the same time. It's a classic standing room only space filled with an eclectic crew of all ages and incomes. I once saw a pizzero cleaning up trash with his bare hands before rolling empanada dough, but that only gives the masa more flavor.
All about the pizza: F-U-G-A-Z-Z-E-T-A! Argentina has the Cataratas del Iguazú, and Chacarita has the Cataratas de La Mezzetta, THE place to go for a greasy cheesy hangover fugazzeta cure. I channel my yearning for brunching on diner food and instead go for the second best: a dangerous slice of cheesyonion glooping fugazzeta.
MONZÚ PIZZERIA BAR – José Antonio Cabrera 3975, Palermo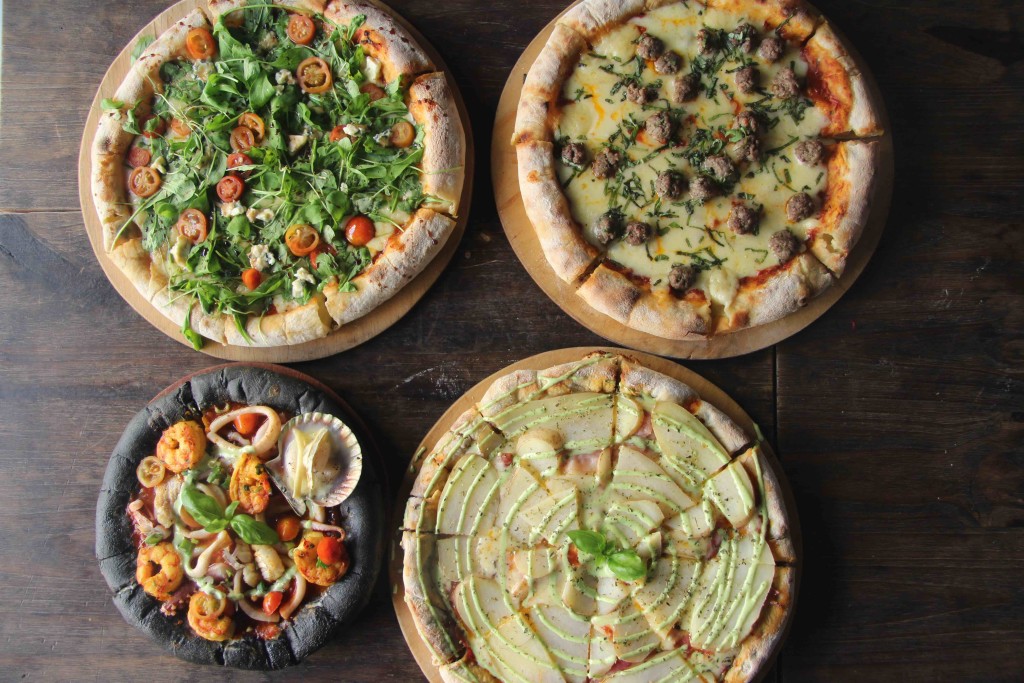 The pizzeria lowdown: The Venezuelan owned pizzeria known for stuffed crust and creative topping combos is pretty much the best thing that happened to the other side of Scalabrini Ortiz.
All about the pizza: Dreams of papa aioli or albondigas and albahaca, Monzú has you covered. Hot tip: sometimes you may be surprised with chorizo inside the crust.
PIZZERIA FERREIRO – Angel Gallardo, Av. 1001, Caballito.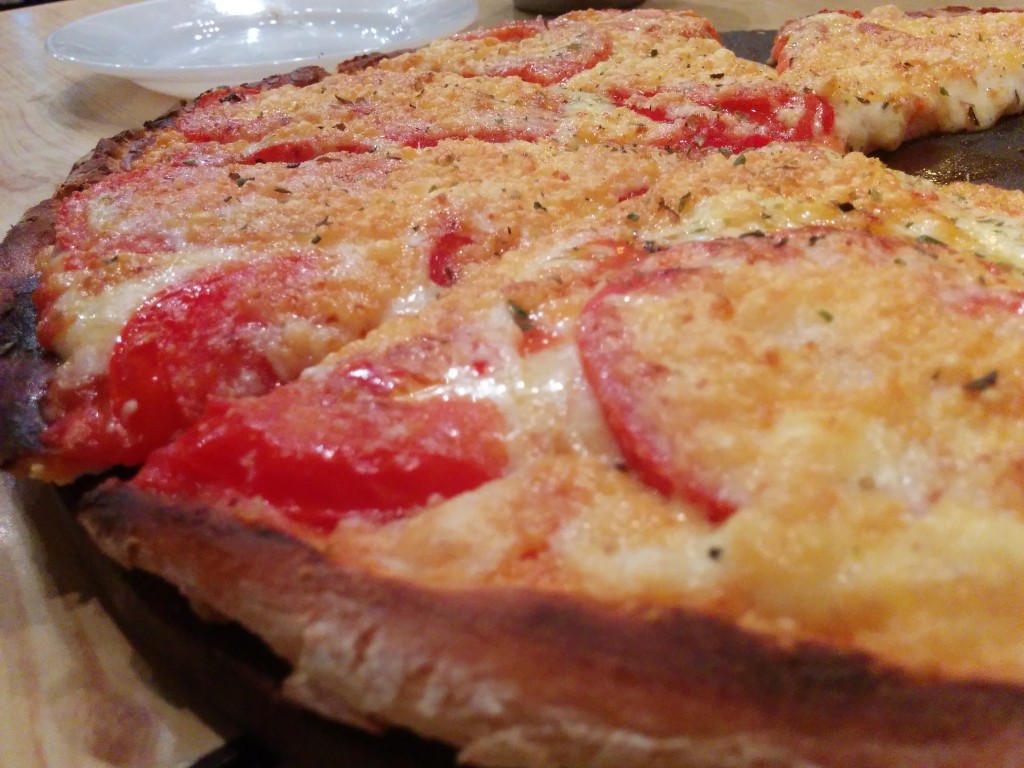 The pizzeria lowdown: A total barrio dive that's been around for what seems like forever. It's probably the best pizzeria in the 'hood with a classic bodegón vibe. Ferreiro does delivery, but it's much more recommendable to scarf pizza + beers in house.
All about the pizza: Pizza a la Piedra, yo! On GuíaOleo, some trusty reviewers said it was malo because: "La pizza a la piedra es una tapa de pan arabe tostado, de las peores pizzas que comí" "casi no se ve de tan finita que es. Para lo que cobran, debería ser mucho mas suculenta. Nunca vi una pizza tan fina. No vuelvo."  Thin crust pizza, you say?! I'm in! And it's a good crust, solid cheese and has that perfect crispy bite that still doesn't fall apart. (Photo La Mejor Pizzeria)
1893 Pizzeria – Scalabrini Ortiz 701, Villa Crespo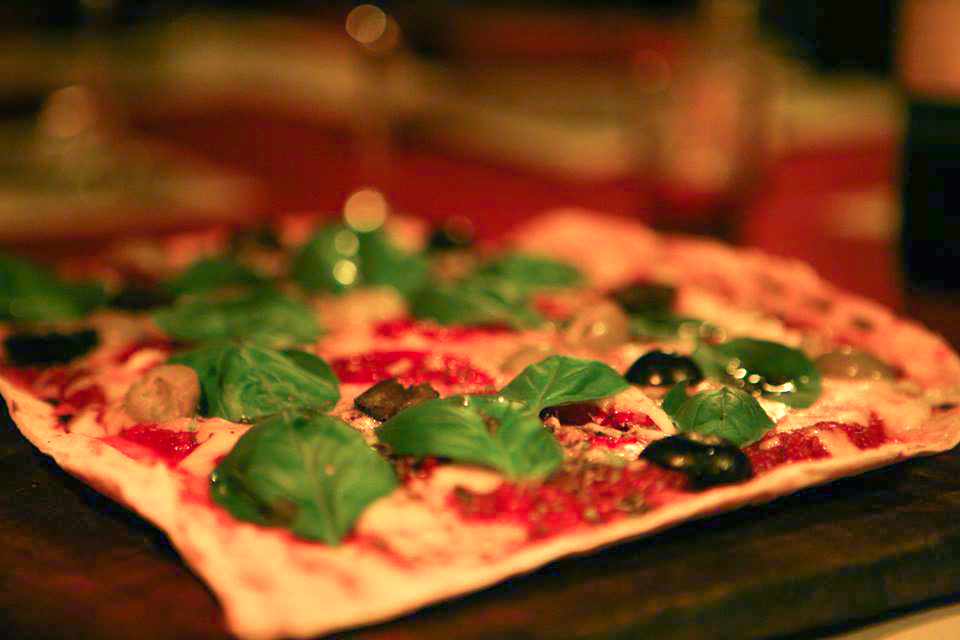 The pizzeria lowdown: A pioneer in the pizza a la parrilla world in Buenos Aires, Danilo Ferraz opened 1893 in 1994, and named it after the year his casona on Scalabrini Ortiz y Loyola was built. 1893 is the older sister of the popular pizzeria mini-chain Morelia, although you'll almost always find Danilo behind the grill at this Villa Crespo corner.
All about the pizza: It's a rectangular or half moon ultra thin cracker crust, topped with tomato sauce and cheese, and then grilled quickly on the parrilla. 1893 also plays with fancy toppings: smoked meats, pickled vegetables, and even has a Roner to sous vide ingredients. (Photo by 1893)
Honorable Mention: El Cuartito for history factor, Palacio de la Pizza because it's the pizza palace, La Guitarrita for the Nuñez folk, Pin Pun because it's a few blocks from my house, Angelín for its lots of sauce and no cheese pizza canchera and La Locanda for whenever pizza is on the menu.
And the next pizzerias on my list to visit: PARTENOPE in La Lucila and JESOLO in La Plata.
Wanna get schooled in everything and nothing you wanted to know about all the Argie styles of pizza? Head to The Latin Kitchen for the goods.
As I was strolling through the streets of Palermo one day, I saw a billboard advert which made me stop and stare. This rarely happens but the difference today was that the advert in question was promoting one of Brazils' finest musical exports, Sepultura, whose heyday in the late 80s to 90s saw them churning out thrash/death Metal. Now, Sep may not be quite so well known in Argentina but in Brazil they're very famous. I've been listening to them for 16 years and for one reason or another have never been able to see them play in London, my home city. The second I saw the advert, I knew I had to go. What's more, is that it's their 30th year anniversary. It seems that one of the first bands that got me into metal, who happen to be south American, are also going to be the first I see live in Buenos Aires and that's a pretty special thing. After discovering this concert's existence, I inadvertently began to discover other musical events which were happening in the city. In the space of about a month, there will have been five or so metal concerts. Some big (Sepultura, System of a Down) and some much more underground (Arkona). I had read that south America's metal scene was pretty strong but it's even more encouraging when you're there and able to see the evidence for yourself! 
-Oliver
P
The heat of the day gives way to the steam of the night in one of the world's biggest, sexiest and most notorious cities.
I am about half-drunk, just sober enough to stay safe, and I'm wantonly lost on a dangerous backstreet. The music spills out of the raucous neighborhood bars–incoherent rhythms stumbling across the sidewalks and into the street, bouncing harmlessly off each other like whiskey-soaked drunks too wasted to fight.   
That's just my imagination, but I encourage you to daydream with me. Cue the Tango. In Argentina, it is mid-summer. Today's forecast for Buenos Aires is mostly sunny with a high temperature of 82 degrees. Sounds nice, eh?
Our friend Tim is a fully deputized Washington Beer Blog Correspondent. Tim is currently on assignment in Argentina. I am guessing that his adventures don't match my imagination. Tim is on vacation and is generously reporting to us about what kind of beer he finds as he bounces around the country between Buenos Aires and Mendoza. In a country where wine reigns supreme, Tim has managed to find some craft beer – cerveza artesenal, as the locals call it.
"I knew about Buller Brewing and sought them out," says Tim via email. "I went to one of their pubs – the one right across the street from the Recoleta Cemetery, where Evita is buried."
If there is a craft beer revolution happening in Argentina, and that is a big if, Buller Brewing started it. In operation for more than a decade, Buller Brewing operates two gastropubs in Buenos Aires: one near the famous cemetery and the other downtown. They are slick, urban establishments that morph into lively night clubs after dark. According to our reporter, Buller Brewing is not exactly like your cute, little neighborhood pub. After all, Buenos Aires makes Seattle look like a sleepy little one-horse town.
The beer lineup at Buller Brewing includes Light Lager, Blonde Ale, Honey Ale, IPA and Stout. Tim reports that the beers are serviceable but nothing like he is used to drinking at home (Seattle). That is, he's not complaining. "Honey Ale is a big deal here in Argentina. It's basically a blond ale with a sweet taste. Also, the IPAs here taste like malt and not hops."
One more beer stop in Buenos Aires: Cerveza Atresenal Antares. Located in the Palermo neighborhood, this is one of several Antares locations in Argentina (at least a dozen). Again, this place is urbane, big and swanky. Unless something was lost in translation, the company's main brewery is in Mar del Plata, where it produces beer for both domestic and export markets. Each location in Argentina has its own brewery, which comes complete with the individual brewer's creative flair. Antares is not exactly small, but it is crafty and produces a full compliment of beer styles ranging from Kolsch to Stout. Yes, and a honey beer.
But it is not all about the big city. And my imagination runs wild again.
A dirty little kid with a big smile is totally unaware that I'm watching as he uses a stick to push a tireless bicycle wheel down the dusty street. Across the way, a group of more dirty kids chase a half-flat soccer ball and a cloud of dust around a vacant lot. I walk into a place that looks like it might be a bar. Everyone stares. I struggle to remember the words, knowing that a few precious phrases are essential for my survival. "Disculpe, señor, necesito una cerveza, por favor." The beer is barely cold, it is closer to tepid, and the glass is dirty. Everything is perfect. "Muchas gracias."
Ah, I can dream.
Tim tells us about the next stop.  "The next brewery, we just happened to stumble upon," Tim explains. "We found Cerveza Artesanal Pirca along the roadside in an area called Colonia Suiza as we approached the city of Mendoza. It's on the other side of the county, up against the foothills of the Andes. Pirca has a rustic beer garden and taproom."
The beer selection at Cerveza Artesanal Pirca was simple: a Rubio, a Rojo, and a Negro (blond, red, and black). Again, Tim describes the beers as adequate, but given how far away from home he is, they are welcomed and refreshing.
We've turned Tim loose now. Maybe we will hear more from him. We hope not. Just go have fun, Tim. Leave us to our daydreaming.
SOURCE: www.washingtonbeerblog.com
Photos by Tim West

I am a "professional" dancer because I teach tango and get paid for exhibitions. But I wouldn't be a pro here in Buenos Aires if it weren't for my partner. He is the draw. He is the Argentine who spent most of his life in the milongas, who lives and breathes and sings the tango. We work very well together, but if it weren't for me, he could also work well with someone else who has the same tango point of view. Foreign dancers especially love getting to know a milonguero and hearing his stories and dance secrets that otherwise they wouldn't be able to do, particularly if they don't speak Castellano.
Ruben wasn't always a professional dancer; he used to work in television until the crisis of 2001. He was passionate about his job, traveled all over Argentina working, and danced tango every night for the love of it. Now tango is his job. He earns his livelihood from tango. It's now more than pleasure; it's work–which he enjoys. He teaches, does taxi dancing, and gives historical Tango Tours of Buenos Aires. Sometimes this puts him in a difficult situation with friends at the milongas we go to for enjoyment and socializing. (We also go to milongas for work when we do milonga accompaniment.)
Foreign women friends expect that Ruben will dance with them. Sometimes he does. But if not, sometimes they outright ask him to dance, which puts him in a bad place as it does with all milongueros. For one thing, milongueros don't like to be invited, nor do they want to refuse a lady, and for another, if he danced with all the women who wanted him to, what about me? What about our social evening together? We are at Los Consagrados or Chiqué to enjoy ourselves.
He will always dance one tanda with current students. It's part of their education and he likes to check their progress. And he will bend over backward to make sure our friends get their drink orders, are comfortable, and help them have a great time at the milonga. But there are friends who expect dances with Ruben at the same time they are telling me they are taking classes at DNI, or El Beso, or expensive privates with Maximiliano Superstar. They ask me to "tell" Ruben to dance with them! Ruben owns his own dance. (I do not give him orders.) Read more here. They expect him to give it away for free. They forget that the tango is what he has to sell.
Do these same people ask for free consultations from doctors and lawyers at social gatherings back home?
 Ruben is a low-profile real milonguero, not a stage dancer who tours the world giving classes and making a big name for himself. He's in Buenos Aires every week of the year dancing in the milongas, as he's done for the past 30 years. All the women want to dance with him and all of the men want to dance like him. But he is a professional. Friendly, affable, funny, and fun as well. And available for classes and milonga accompaniment. I wish the women would remember that at the milongas.
In every country you will find a wide range of idioms and expressions that are used in everyday situations. Here is a list compiled of the ones you should know while you are in Argentina but watch out, make sure to know how to use them and with who because sometimes they can be offensive. These idioms and expressions, along with lunfardo, will keep your knowledge up to date while you blend in with the locals.
no le llega agua al tanque

when someone isn't thinking straight or is missing the point.

a las chapas

to go really fast

arrastrar el ala

to hit on someone or advance with romantic intentions

lo atamos con alambre

to jerry-rig it

bajá un cambio

To relax or chill out

cara rota

a shameless person

caer como peludo de regalo

a way to say an unwanted guest who shows up unexpectedly

calavera no chilla

you get what you deserve

calienta la pava pero no ceba los mates

Someone that messes with you or teases you

faltan cinco pa'l peso

to come up short

echar panza

to let go of yourself, to be lazy and gain weight

comerse un huesito

to sleep with a hot babe or when you make out with someone

echar un polvo

to have sex

no dejar titere con cabeza

to take no prisoners, when someone destroys everything and takes it without leaving anything behind.

estar en el horno

to be in a bad situation

dejate de joder

get out of town! You gotta be joking! Stop messing around

echar un cloro

take a piss

más loco que una cabra

Something very crazy

le faltan algunos jugadores

Someone who isn't there or when one he is out of his mind. A stupid person

medio pelo

mediocre

hacer gancho

to play matchmaker, to be cupid

meter la mula

to rip someone off

hablar hasta por los codos

to talk a lot without stopping

la verdad de la milanesa

the real deal

hacerse la mosquita muerta

to act innocently after doing something wrong

hasta las manos

to be busy, have your hands full

ni a ganchos

no way

ni a palos!

no way

mala leche

bad luck; also when someone has bad vibes

no dá

sorry, unacceptable, doesn't give

la noche está en pañales

the night is young

ponerse la camiseta

to be a team player

parte la tierra

wow what a beautiful woman!

me pica el bagre

I'm hungry

qué pito toca?

What is his story? Whats up with him?

me quema la cabeza

it blows my mind

tirame las agujas

give me the time

la sacaste barata

you were lucky

tener una vena

to be super pissed off

saltar la ficha

to blow a fuse

tomátela!

screw you, take it!

tomalo con soda

calm down, take it easy

tirar los galgos

to flirt or hit on someone

Esta mas bueno que comer pollo con las manos

Something really good

mas aburrido que chupar un clavo

To be extremely bored, so bored that you would suck on a nail.

mas feo que tropezar descalzo

Something that is really ugly "Worse than stepping on something without shoes"

más feo que patada en los huevos

more ugly than getting hit in the balls

perdido como turco en la neblina

When you are super lost and don't know the way

desubicado como aceituna en Pan Dulce

Something out of place "Like putting tunafish on sweet bread"

desubicado como chorizo en ensalada

Something said or done that is out of place/rude

mas buena que Lassie atada

When someone is courteous or nice

más pobre que ratón de Iglesia

Someone who is very poor. "more poor than a church rat"

más contento que perro con dos colas

Someone who is very happy. "happier than a dog with two tails"

más peligroso que mono con navaja

Something who is very dangerous. "More dangerous than a uncontrollable monkey with a pocketknife."

ordinario como canapes de polenta

Something ordinary

más al pedo que bocina de avión

Something very useless

más duro que perro en bote

Someone who is very scared

menos onda que un renglón

someone or something boring

mas feo que pisar mierda descalzo

When something is very ugly or undesired, Ojo!, this is offensive

mas duro que gato de yeso

Someone who is scared

el muerto se rie del degollado

When one criticizes another person when he/she has the same defects

Más aburrido que choque de tortugas

When something is very boring. More boring than a turtle crash

más falso que billete de tres pesos

When someone or something is fake or stupid

más fuerte que trompada de oso

Strong . "Stronger than a punch of a bear"

mas inutil que cenicero de moto

Doesn't serve any purpose

pesado como sopa de chancho

Someone or something that is overbearing

mas solo que Indio malo

To be alone without friends

peor que casarse y vivir con la suegra

When something is difficult or complicated

raro como perro verde

When something is strange

raro como politico honesto

A situation or person that you have little confidence in. Seems too good to be true but you give it a chance.

mas pesado que collar de sandias

A thick minded person, over bearing or has no manners

mas nervioso que pescado en Semana Santa

When you are very nervous for something.

fuerte como aliento de perro

Something strong "Like the breath of a dog"

menos onda que bandera de chapa

When someone or something isn't fun, cool or is boring.

mas solo que Adan en el dia del amigo

To be alone without friends

mas cerca del arpa que de la guitarra

When you are about to die or in a critical situación

Menos estado que Palestina

when someone has is not phisical capable of performing something.

Hacerse la rata

skipping school.

Estoy seco

I have no money.

No te hagas el vivo

don't be a smart ass

Seguirla remando

Keep trying.

Es un bagayo

She is really ugly.Ojo!, this is offensive

Pegar un tubazo

To make a phone call.
Feedback
Help us help you better! Feel free to leave us any additional feedback.
How do you rate our support?